Posted by Cindy on Jul 6th 2022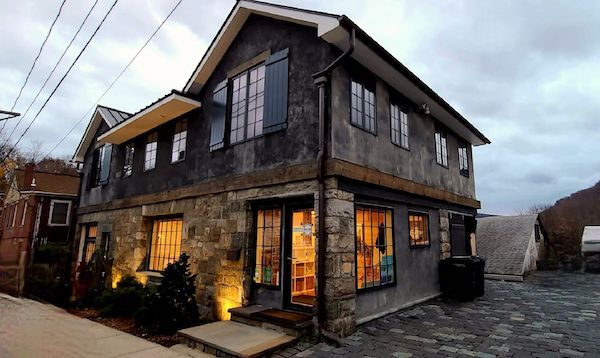 For our Summer 2022 Giving Project, we have chosen the Philipstown Behavioral Health Hub, located right here in Cold Spring, to benefit from yarn sales. The Hub is dedicated to providing a single point of access to mental health and addiction services and resources.
Recently we spoke with Laurie Sigalos, the new Executive Director of the Hub, as well as Care Coordinators Jessica Quinones and Kyoko Gelber, to learn more about what they do.
How did the Hub get started?
The Hub originally started in response to the opioid crisis and the challenges that Philipstown residents faced in trying to get help. It quickly broadened to include making connections for all Philipstown residents to not only addiction services but mental health services as well.
What is the Hub's mission? What services and resources do you provide?
Our mission is to provide local access to mental health and addiction services to Philipstown residents. We will help anyone who reaches out to the Hub with their needs for mental health and/or addiction services, whether it is a therapist or an in-patient treatment program or a psychiatrist referral. We will try to find a provider who is a good fit for our participant and include considerations such as insurance coverage. We also provide on-going support at the Hub while these connections are being made.
The Hub opened just months before the start of the pandemic. Was there a shift in the focus or operations of the organization as it had been originally conceived?
The pandemic certainly presented some unique challenges, but we were able to continue meeting people in person by using the indoor and outdoor spaces we have available at our office. We had to change the way some of our programs were offered, such as the monthly in-person Community Conversations we were facilitating, and we missed the Cold Spring First Friday events we were initially hosting in our space, such as board game nights and art shows in collaboration with Haldane. Fortunately, technology allowed us to stay connected with the community, and we were able to meet people online or by phone if they didn't feel comfortable meeting in person, and we conducted group activities by zoom. The pandemic also caused us to delay our first planned 5K event, but by thinking creatively, we launched the Hub's Virtual Marathon instead, which was tremendously successful at making our community feel connected with one another.
Have there been other surprises along the way?
Pivoting to online meetings during the pandemic allowed us to connect with more people than we may have otherwise been able to do, because it gave people more flexibility with their time. Thanks to partnerships with NYS Office of Addiction Services and Supports (OASAS) we were even able to conduct NARCAN training online.
What is most rewarding about the work you do at the Hub?
Being able to help our community members get help. It's very rewarding when we are able to help make a quality connection for a participant.
What has been the biggest challenge?
At the moment, mental health services are pretty flooded. More often than not there are waitlists for appointments. That can be difficult when someone needs help ASAP.
How can people get involved?
The Hub was created to bring together the people and resources of Philipstown to address the mental health and addiction crisis in our community. There are many ways you can help:

VOLUNTEER
HOST A "FRIEND-RAISER"
BUSINESS SPONSORSHIP
ATTEND AN EVENT
DONATE
PARTICIPATE IN HUB RESEARCH PROJECTS
Is there anything else you would like to share?
Please feel free to stop by the Hub any time! We are at 5 Stone Street, just off of Main Street in Cold Spring.
Your yarn purchase to knit Jessie Mae's Cozy Classic Raglan or crochet Sandra Gutierrez's Confetti DK Pullover will help support The Hub's important work! Start here to plan out your project!