Posted by Cindy on Jul 1st 2022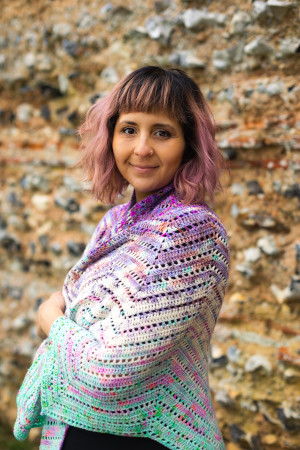 Sandra Gutierrez designed the joyful Confetti DK Pullover, the crochet pattern we are featuring for our Summer Giving Project. Under her brand Nomad Stitches she has published dozens of patterns, elevating the art of crochet to new heights.
We are delighted that Sandra was able to take the time to share insights about her philosophy and process with us.
How did the name Nomad Stitches originate?
Well, my husband and I live quite nomadic lives. Together, we have lived in China, Mexico, Bulgaria, Spain, Italy and the UK. Before we met, we lived in many other countries too. So when I needed to come up with an original name, it seemed fitting to reference the fact that my stitches come along with me when we move!
Please tell us about how and when you learned to crochet.
My mom taught me how to crochet when I was very young. I don't have a clear memory of it, I simply just remember knowing how to do it!
Did you learn to knit before or after you learned to crochet (or at the same time)?
In Mexico the verb "tejer" (to knit) applies to both crochet and knitting -- the only thing that changes is the tool you use. So I learned both techniques at the same time. It felt natural. Throughout my life, I went through crochet-only and knitting-only phases, but they have both always been my love.
How did you get started as a designer?
I actually started designing and selling crochet bikinis at the beaches and streets of Valencia, Spain after a friend really liked the top I had on and encouraged me to make them! After a while of hustling I realized that I could maybe write a pattern to one of my designs since there was nothing like it at the time, and so I did. The rest is history, as they say!
Is your approach to crochet design different from your approach to knitwear design?
I don't necessarily differentiate them. I think that crochet and knitting are more alike than people realize. Yes, tools and techniques are different, but when it comes to design, rows are rows and stitches are stitches. So I approach them very similarly. I mostly choose between them based on the desired outcome, but not on the design or making process.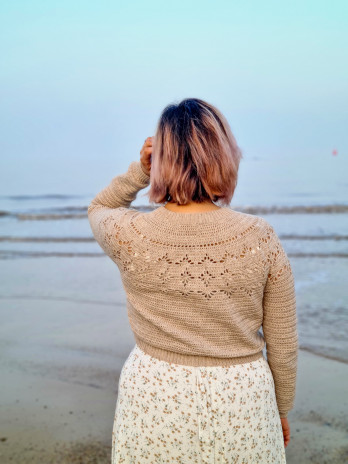 Did you coin the term "Crochet Knitwear"? What does it mean exactly?
I wouldn't say that I coined it, but it seems to describe the kind of work I make. Like I said before, in Spanish the term "tejer" encompasses both knitting (tejer a dos agujas - to knit with two needles) and crochet (tejer a ganchillo - to knit with a hook). So when I think of knitwear, I think of garments, clothing or wearable accessories that are "tejidos" (knitted or crocheted). I am not sure how accurate the term is, but I like it. Besides, knitted garments usually have the illusion of being more professional and generally more wearable than crochet garments. What I am trying to achieve with crochet is to create garments that have the same attributes in terms of quality, technique and wearability as knitted ones.
What has surprised you about your career as a designer?
Mostly that it exists! Never in my wildest dreams did I think that I could make a living with yarn. It is hard work and people think that I frolic about with a crochet hook all day even though about 80% of the business is done on the computer doing maths and dealing with costumer service. Either way, I love it!
How does your commitment to sustainability translate to your work as a designer?
I take sustainability very seriously. I do my best to work with brands that are committed to sustainability and with fibers that are biodegradable and as natural as possible. But more importantly, I try my best not to over-shop. I use yarn from my stash as often as possible and sometimes even reuse and recycle yarn from garments that I don't wear. It's too easy to buy too much and let it simply sit and go to waste.
What are some ways you make your patterns more accessible?
I design to a wide range of sizes to be size inclusive. Whenever possible, I use charts to make the the making process easier. A few years ago I also started a YouTube channel and a blog where I keep tutorials for lots of the techniques that I use in my designs and whenever possible and beneficial, I make videos specifically to address difficult bits in patterns. I try to provide schematics and accurate stitch counts. Anyway, I do my best to be as accessible as possible as well as available and approachable to answer makers' questions.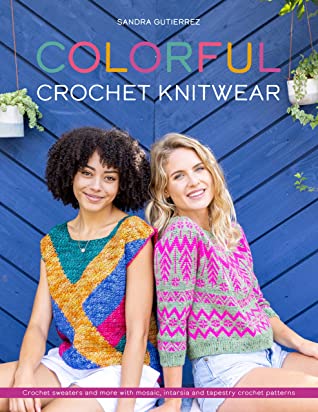 Tell us about your gorgeous book, "Colorful Crochet Knitwear"!
Colorful Crochet Knitwear is the book of my dreams. I wanted it to be more than just a compilation of patterns, but also a guidebook for colorwork and general crochet techniques. It has lots of information including chapters on color theory, yarn substitutions, how different fibers affect colorwork and how to choose colors and fibers. There are also big chunky chapters that describe each of the variations of the colorwork techniques included: tapestry, mosaic, striping and color blocking, and intarsia. And then there are the patterns! There are 14 in total, including garments and a few accessories, such as a shawl, two hats, mittens, and a cowl. They use different colorwork techniques and are the perfect way to practice all you learned in the colorwork chapters!
From where do you tend to draw inspiration?
I love drawing inspiration from my experiences living and traveling to different countries. But there's inspiration everywhere! Especially in nature.
You have a Van Gogh quote on your website: "Great things are not done by impulse, but a series of small things brought together." What does that mean to you?
Well, I think that in terms of crochet and knitting, we makers know what it is to work slowly for something great. And I would go as far to say that a crochet or knitting project is a great metaphor for life: little stitches, independent yet connected, come together to make something greater and beautiful!
What's next for Nomad Stitches?
Well, I am in Mexico visiting my family as I write this. We came here from the UK and are planning on a long 2-month stay. But then, as soon as we get back to the UK, we're planning on moving to Spain again! So hopefully that means more in-person events and courses, as well as collaborations with other European brands. My husband is also talking about getting into yarn dyeing to make Nomad Stitches a proper family business, so we'll see about that!
Is there anything else you would like to share?
I guess just that I am so so grateful to everyone who has ever trusted me with a purchase of one of my patterns or my book. You all made my dream come true and you help me feed my family doing something that I love. All of us small businesses are real people and I am always immensely thankful for the support!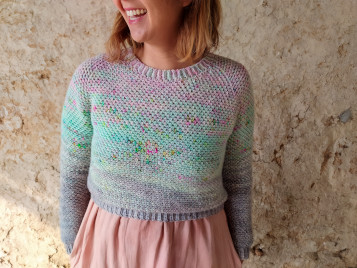 Be sure to follow Sandra on Instagram @nomadstitches!
Check out our planning guide for the Confetti DK Pullover! Your yarn purchase for the Confetti DK Pullover by September 30, 2022 will help support the Philipstown Behavioral Health Hub in their mission to provide a single point of access to mental health and addiction services for local individuals and families.