Posted by Cindy on Sep 20th 2022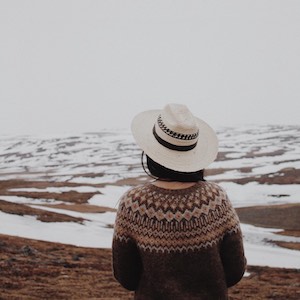 Weichien Chan, known as The Petite Knitter, is a knitwear designer based in the Canadian Arctic. The high-contrast, neutral tones of the tundra are reflected in her gorgeous colorwork patterns. We are featuring her stranded Hytte Pillow for our Fall Giving knit project.
Weichien recently spoke with us about her life and work.
What are some challenges and advantages of living on an island in the arctic?
Advantages: Life is simple and slow -- no heatwave, no pollution, no traffic.
Challenges: High costs of living, food and supply insecurity, extreme housing shortage, no road access which leads to remoteness.
How did you learn to knit?
A really good friend of mine I met while studying in Norway taught me how to knit.
What led you to become a knitwear designer?
It was a simple decision -- I couldn't find the pattern I imagined in my head, so I decided to make it myself.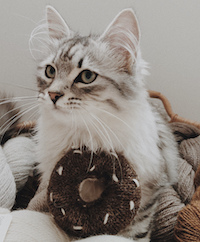 Most of your patterns are stranded colorwork sweaters, socks, hats, and mittens, but you've also designed a knitted doughnut called Adoughrable. How did that come about? (I'm planning to make the mini catnip-filled version for my cats!)
I was looking for something fun to knit and thought it'd be cute to knit a giant pillow. I was just playing around but it seems like it's a thing now!
What's inspiring you right now?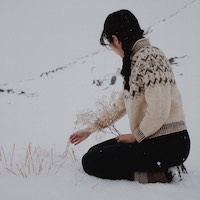 All the little arctic plants that are in bloom -- so nice to see the tundra come alive.
What's on your needles?
A colourwork yoke jumper - no surprise there.
Can you give us any hints of what's on the horizon for The Petite Knitter?
More colourwork patterns and hand embroidered items! And there is something very very exciting in the works that I can't share yet, so stay tuned!
Is there anything else you would like to share?
You can follow my knitting journey on Instagram, Facebook or Pinterest @thepetiteknitter. You can shop on my website at thepetiteknitter.com or on Ravelry.
From October through December 2022, your purchase of yarn at The Endless Skein to make Weichien's Hytte Pillow will benefit Midnight Run, a nonprofit organization that has been bringing community and justice to the streets of New York City since 1984. Start here to plan out your project!