Posted by Cindy on Sep 20th 2022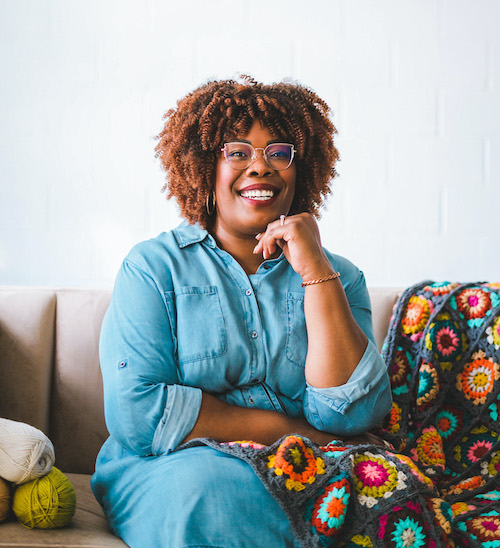 Toni Lipsey is a renowned crochet designer, as well as an acclaimed writer and teacher. We have featured several of her patterns as samples here at The Endless Skein and as kits, and her Maisy Velvet Pillow is the featured crochet pattern for our Fall 2022 Giving project.
Toni took time out of her busy schedule to chat with us about how she launched her career and about what's next for her business, TL Yarn Crafts.
Who taught you to crochet?
I learned to crochet when I was just 13 years old, from my incredibly talented mother. She sews, knits, does macrame and every other craft I know of, but she chose to teach me how to crochet. I'm grateful that we've used crafting to keep us close through the years.
How did you get started as a designer?
I began my maker career as a craft show vendor. I started sharing my items on Instagram and got requests for the patterns to my pieces. I decided to give it a try and released the Mega Pom Beanie as my very first pattern. The rest is history.
In addition to designing, you also teach and write about crochet. What do you find most rewarding about your career in the fiber arts?
The most rewarding moments within my maker career are when my students finally "get it." There is a look they get when everything they've learned and practiced finally clicks. That moment of confidence endears them to the craft and encourages them to keep going.
From where do you tend to draw inspiration?
I like to find my inspiration from outside of the knit and crochet industry. I like to look through fashion and architecture magazines, visit museums, or just walk through populated areas and soak in the amazing style around me.
What do you find is your biggest challenge?
I absolutely love what I do, which often makes it hard for me to say no to new opportunities. I'm actively trying to live a softer life, making more time for myself as well as my physical and mental health. I'm hoping to transition TL Yarn Crafts into more of a streamlined business so I can continue serving my community while taking better care of myself.
Have there been any surprises along your journey?
I certainly didn't think I would make so many great friends or visit the cool places I've been. I like to go with the flow of my creative business. Crochet is also my hobby, so I find myself actively looking for opportunities to connect with new people and push myself outside my comfort zone.
What's on your hook right now?
I always have my temperature blanket on my hook. This year, I am doing join-as-you-go panels of linen stitch to make a queen sized blanket. Aside from my temperature blanket, I'm working on a never-ending granny square blanket and a few mini skein projects.
What's next for TL Yarn Crafts?
Teaching is becoming the central focus of TL Yarn Crafts, so I'm spending a lot of my time finding ways to spread the joy of crochet to new and experienced makers. I'm planning lots of in-person classes throughout the Midwest, and I'm cultivating my content on YouTube.
Is there anything else you would like to share?
My book, The Tunisian Crochet Handbook, celebrates its one-year birthday in December. Get a signed copy from my website, TLYarnCrafts.com, and help me celebrate!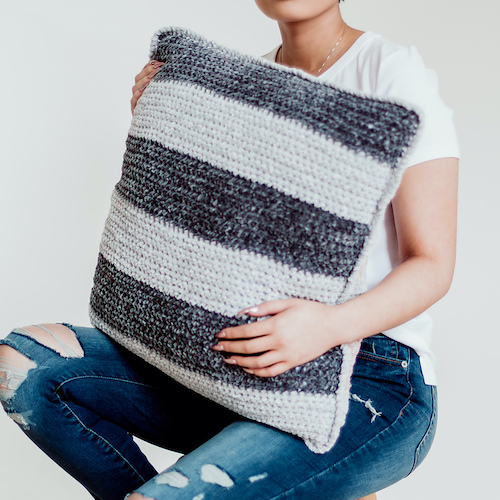 Be sure to follow Toni on Instagram @TLYarnCrafts!
From October through December 2022, your purchase of yarn at The Endless Skein to crochet Toni's Maisy Velvet Pillow will benefit Midnight Run, a nonprofit organization that has been bringing community and justice to the streets of New York City since 1984. Start here to plan out your project!