Posted by Cindy on Dec 29th 2022
Diane Loehr is a member of The Endless Skein community, but she has been crocheting for charity since long before The Endless Skein opened. Several years ago she started a group at her church dedicated to charity crocheting and knitting. Diane was kind enough to share the story of her group with us.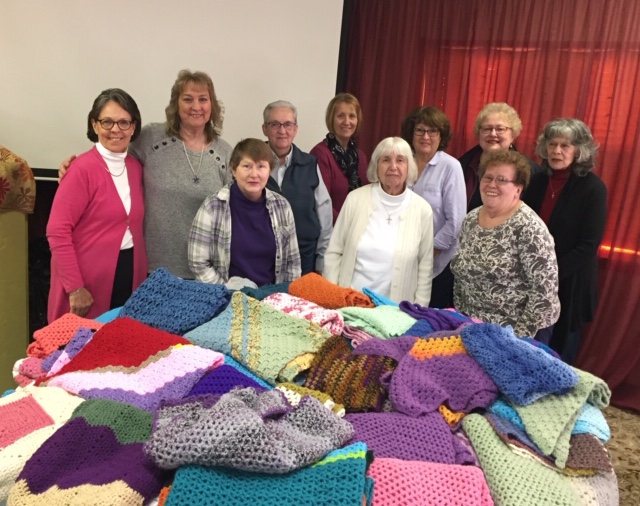 When and how did your group start? How many participants are there?
Heart & Soul Prayer Shawl Ministry started at Our Savior Lutheran Church in Fishkill, NY in April, 2016.

There are approximately 10-15 ladies that joined the group. It does vary from month to month, but we have a great time when we do get together.
Are you crocheters, knitters, or a mix of both?
We are mostly crocheters, but we do have a few ladies that like to knit as well. I have taken up knitting, but I am a true beginner. Would love to learn how to create easy knitted socks, so we can donate them to charities in the area that need them during SOCKTOBER!
Why did you decide to craft for charity?
I decided to create this ministry when my father and my husband died six years ago. I asked God to show me a sign and he did. I didn't know if I had what it took to take on a ministry like this, but with friends and family by my side, they gave me the confidence that I needed. I then put out the word at church, and they came. I was shocked and so pleased at the same time. We searched different organizations that needed handmade items, and we still crochet for them today. It truly brings us such happiness to show a total stranger a little love through the talents that God gave us. We feel that the shawls represent a HUGE HUG, bringing warmth and comfort during difficult times.
To what organizations do you donate?
The organizations that we have donated to are (just to name a few, LOL):
Our Savior Lutheran Church (Shawls)
Our Savior Lutheran Church Coat Drive (Dutchess Outreach)
Vassar Hospital (NICU)
Dyson Center – Chemo Caps
DCC Cares (Dutchess Community College)
Lutheran Care Center (LCC)
Wingate (Fishkill) Nursing Home
Operation Gratitude (Items for Care Package for our Soldiers)
Hospice Blankets for Veterans
Grace Smith House
Walter Hoving Home
The Children's Home in Poughkeepsie
Hope on a Mission (Poughkeepsie)
The Endless Skein (hats, scarfs & Project Linus)
Eleanor Roosevelt Knit-In
We are always looking for new organizations that will appreciate these beautiful handmade items. If you provide us with their information, I would be happy to reach out to them. This year our theme is "The Year of the Child". We are looking forward to having a bunch of children learn to crochet at our church through our Sunday School & Youth Program. Anyone interested, please contact me and I will inform you of the date and time of this event. Should be a lot of fun!
That list is very impressive. How many items have you donated so far?
So far, we have donated over 4,400 items (Hats, Scarfs, Cowls, Chemo Caps, Blankets, Lap Throws, etc.).
Amazing! Have there been any memorable projects that you can tell us about?
I would have to say that the most memorable project that we have undertaken are the prayers shawls that we created at the very beginning of this adventure and are still creating today. They were created in memory of my dad and my husband. The shawls were distributed to hospice centers (which they were both in at the end of their lives), battered women's shelters, and people undergoing chemo treatments.
Can others join the group?
Absolutely, individuals can join our group at any time. Our doors are always open to meeting new people, sharing our projects and patterns, learning from each other, and just having a good time enjoying our love of crocheting and/or knitting.
We meet every third Saturday of the month at Our Savior Lutheran Church from 2-5pm in the Social Hall. There may be some months where the date will change, but I will let the group know. I attached my business card in case anyone would like to reach out to me. I will be happy to answer any questions that they may have. (You may contact The Endless Skein for information about the group since we have not included Diane's business card here.)
So many members of The Endless Skein community are incredibly generous with their time, donating handmade items to charity. We are always looking for ways to support these efforts, from being a collection point for Project Linus and Knitted Knockers as well as other organizations, to providing free yarn and patterns, as well as a workspace, for those who wish to knit or crochet for charity.
The Endless Skein posts information about our charity initiatives on our Events and Opportunities page. You can also participate in our seasonal Giving Projects!